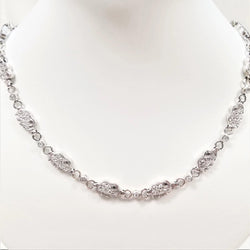 9 kt White Gold and Cubic Zircon Elephant Necklace
SKU: 9WNA1
9 kt White Gold and Cubic Zircon Elephant Necklace
A 9 karat white gold piece of Africa, this cubic zircon necklace with detailed elephants is stunning no matter where in the world you take it. An exquisite elephant necklace is a must-have to take home whether you are a visitor to this wonderful continent or lucky enough to reside here! 
The good news is that we also have a matching bracelet! How perfect it will look when you have the two together! Click here to view the Bracelet and decide for yourself!
Start a conversation with us by clicking the button below or contact us by email.