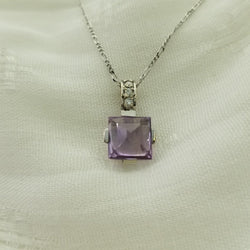 18 White Gold Amethyst and Diamonds Pendant
SKU: 18WPDG1
18 White Gold Amethyst and Diamonds Pendant
18 karat Pendant with an Amethyst of 1.02 carat and Diamonds totaling 0.06 carat are set in the bail. This is a boss-lady pendant! The piece is perfect for the career woman who wants to be taken seriously but still likes a bit of bling. The stone is actually set differently than usual.  The culet is facing you and not touching your skin as it usually happens.
You can check and see if you like the Amethyst Earrings, not as an exact match but can complement this pendant.  
Measurements 
Size 8mm x 8mm /  0.3 inch x 0.3 inch

The length of the pendant, from the diamond bail, is 17 mm or 0.67 inch
What is Culet?
The culet (pronounced kyoo-lit) of a gemstone or a diamond is the tiny point at the base.
Price excludes the chain.
PLEASE NOTE:  THIS ITEM HAS BEEN SOLD, BUT SIMILAR ITEMS CAN BE CUSTOM-MADE WITH ANY STONE YOUR HEART DESIRE.
Start a conversation with us by clicking the button below or contact us by email.