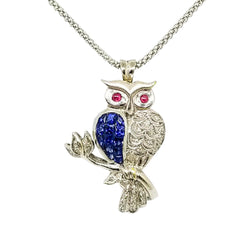 18 kt White Gold Owl Pendant with Diamonds and Sapphires
SKU: 18WPD90
18 kt White Gold Owl Pendant with Diamonds and Sapphires
We, like the Owl - also come alive at night! Show your individuality with this Exclusive Hand-Made Piece, a stunning 18kt White Gold Owl Pendant set with diamonds, rubies and sapphires. A real conversation-starter. The diamonds are totaling 0.14ct and the Sapphires total 0.78 ct with Rubies totaling 0.08ct.
The price excludes the Chain, but we can show you a few options.
Start a conversation with us by clicking the button below or contact us by email.