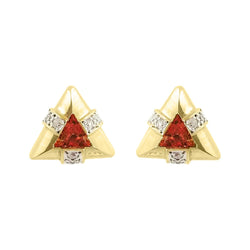 9 kt Yellow Gold Triangle earrings with Citrine and White Cubic Zircon
SKU: 9YECC1
9 kt Yellow Gold Triangle Earrings with Citrine and White Cubic Zircon
These 9 karat yellow gold triangle earrings are made with citrine cubic zircon and white cubic zircon. The intense deep orange pops of color gleaming out from these triangle earrings suit your alluring personality. Sometimes it's fun to be the center of attention and be so with these on!
This item has a matching pendant, you can check it to see if it something that you want to get. Remember that we have one of each, therefore decide before another does...
Measurements 
Equilateral triangle each side: 1.50 cm / just over 1/2 inch long.
Start a conversation with us by clicking the button below or contact us by email.