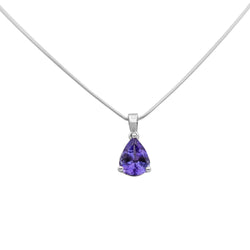 White Gold Pear Shape Tanzanite Pendant
SKU: 9WPT364MC
White Gold Pear Shape Tanzanite Pendant
This pendant has a pear-cut tanzanite weighing 1.60 carats and is set in 9 karat white gold. It is a rare and exquisite African gem. With its violet blue color, this provocative stone is both mysterious and mesmerizing and in its solitary setting makes for a unique piece. The pendant is worn close to the heart and bring forth the feeling of compassion and love. 
The chain is not included in the price
Start a conversation with us by clicking the button below or contact us by email.