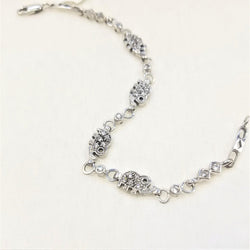 White Gold and Cubic Zircon Elephant Bracelet
SKU: 9WB10
White Gold and Cubic Zircon Elephant Bracelet
A bracelet of 9 karat white gold elephants.
This elegant elephant bracelet is a beautiful piece of Africa, manifested in 9 karat white gold. Moreover, the cubic zircon elephants are gorgeously detailed, following one another in a perfect row.
It has a matching necklace, and the two together will make you feel complete because you have two very special items just for yourself! Click here to view.
Start a conversation with us by clicking the button below or contact us by email.