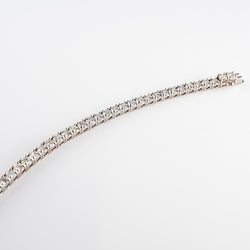 Tennis Bracelet
SKU: 18WBD12
Tennis Bracelet
This Tennis Bracelet is so full of diamonds, it brings the ultimate bling! Feel flashy and fabulous every day . . . you deserve it. 
Please note the drop-down menu for the selection of Tennis Bracelets that we have.
Tennis Bracelets are measured by the number of diamonds and their total carat weight and this changes the price accordingly.
This Tennis Bracelet has been SOLD and a similar one can be ordered for you in any metal (9, 14, or 18kt) in white gold, yellow gold, or platinum.
The price of the item will vary according to your requirements.  A quote will be worked out for the item you dream of.
Start a conversation with us by clicking the button below or contact us by email.