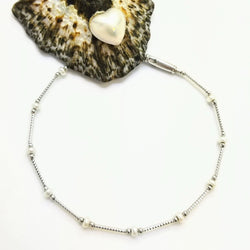 White Gold Tube Bracelet with Pearl Beads
SKU: 9WB11
White Gold Tube Bracelet with Pearl Beads
Bracelet made of 9 karat white gold with pearl beads. 
A touch of romance, in this simply stunning bracelet. It is simple but so sweet! You can wear it alone for a meaningful touch of elegance or in a collection to make a daring statement. 
It has a matching necklace which together it will make a lovely set. Check the item here, and decide for yourself.
Start a conversation with us by clicking the button below or contact us by email.