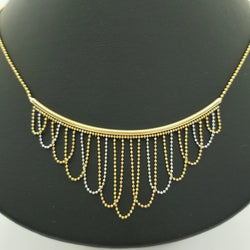 9 kt Yellow and White Gold Frills Necklace
SKU: 9YN1
9 kt Yellow and White Gold Frills Necklace
This 9 karat yellow and white gold necklace's delicate pattern covers the chest with gold while not overdoing it, making for an exquisite look. This is a divinely different necklace because it's bohemian, but also timeless which will make you feel really arty! 
The length is 42 cm or 16.5 inches - it sits snugly on the neck.
The center design is about 7 cm long, or 2.7 inches from left to right.
The length of the longest hanging loop is 3 cm long or about 1.2 inches.
This Item is sold.
Start a conversation with us by clicking the button below or contact us by email.