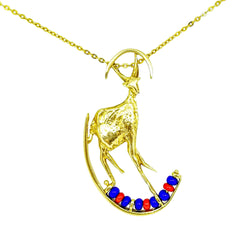 14 kt Yellow Gold Springbok Pendant with Beads
SKU: 14YPA27
14 kt Yellow Gold Springbok Pendant with Beads
This pendant has hand-set beads and the springbok, which is the national animal of South Africa. It has been adopted as a mascot by several sports teams, most famously by the SA National Rugby team! 
With the Springbok you can put a spring in your step because it is as cute as a perfect holiday giftie. Please note that the chain not included.
Start a conversation with us by clicking the button below or contact us by email.