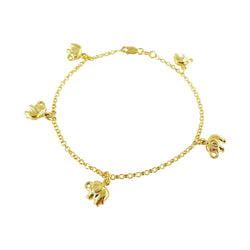 Bracelet of 18 kt Yellow Gold with Elephant Charms
SKU: 18YBA4
Bracelet of 18 kt Yellow Gold with Elephant Charms
Bracelet made with 18 karat yellow gold and 5 small solid gold elephant charms.
Even though nobody ever described the majestic elephant as 'charming', this bracelet with elephant charms is as charming as it is wild! Enjoy Africa, as these elephants go with you wherever you go making you feel charming and wild too.
This elephant bracelet has been SOLD and a similar one can be ordered for you in any metal (9, 14, or 18kt) in white gold, yellow gold, or platinum.
The price of the item will vary according to your requirements.  A quote will be worked out for the item you dream of.
Start a conversation with us by clicking the button below or contact us by email.