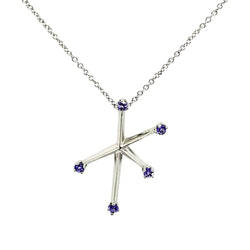 White Gold Southern Star Cross with Tanzanite stones
SKU: 18WPT100
White Gold Southern Star Cross with Tanzanite stones
18 karat White Gold Southern Cross with Tanzanite stones totaling 0.25 carat. You may not have the world on a string, but you can have the stars on a chain! Feel sky-high with this stellar Southern Cross pendant. Sometimes it's good to have your head in the clouds. 
The Southern Cross
The South Cross can be seen mostly in the Southern Hemisphere and it was put on flags at the symbol of freedom. The Southern Cross has 5 stars, and you can now have it on your chest.
Price excludes Chain. However, we can show you our selection of chains that might be appropriate for you. 
This Southern Star Tanzanite Pendant has been SOLD and a similar one can be ordered for you in any metal (9, 14, or 18kt) in white gold, yellow gold, or platinum.
The price of the item will vary according to your requirements.  A quote will be worked out for the item you dream of.
 Start a conversation with us by clicking the button below or contact us by email.