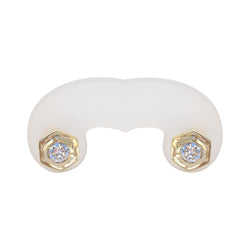 18 kt Yellow Gold and Diamond Hexagon Stud Earrings
SKU: 18YED67
18 kt Yellow Gold and Diamond Hexagon Stud Earrings
These diamond hexagon stud earrings are set in 18-karat yellow gold and the diamonds weigh 0.21 carats in total.
These sweet, cute playful hexagonal earrings are a charming gift for a charming lady. These earrings are fresh and modern and are sure to add a twinkle to any and all eyes. Don't miss out on your chance to own these, you'll regret it.
This Diamond Hexagon Stud Earring has been SOLD and a similar one can be ordered for you in any metal (9, 14, or 18kt) in white gold, yellow gold, or platinum.
The price of the item will vary according to your requirements.  A quote will be worked out for the item you dream of.
Start a conversation with us by clicking the button below or contact us by email.