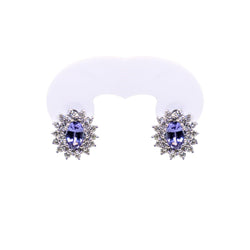 18kt White Gold Oval Tanzanite and Diamond Cluster Earring
SKU: 18WET103
18kt White Gold Oval Tanzanite and Diamond Cluster Earring
These oval tanzanites which total at 0.97 carats and diamond clusters which total at 0.48 carats make for great earrings especially with that 18 karat white gold.
The glistening stones gleam and flash with every ray of light they catch. Bring back the glamour of yesterday with your feet firmly planted in today. Be that modern woman who gives a nod to history. 
Start a conversation with us by clicking the button below or contact us by email.