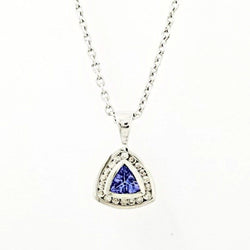 White Gold Diamond and Tanzanite Equilateral Triangle Pendant
SKU: 9WPT13
White Gold Diamond and Tanzanite Equilateral Triangle Pendant
This 9 kt Fancy White Gold Diamond and Tanzanite Pendant has diamonds totaling 0.10 carat set around a deep purple Tanzanite stone of 0.30 carat. This Pendant makes a wonderful gift for a loved one... or for your fabulous self! Such a mesmerizing little piece! 
equilateral triangle: 10mm / 0.4 inch 
The price excludes the chain but we can show you lovely chains that will fit this pendant. Just ask below.