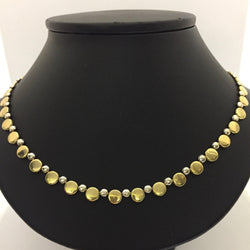 9 kt Yellow and White Gold Dots Necklace
SKU: 9YN3
9 kt Yellow and White Gold Dots Necklace
This 9 karat yellow and white gold dotted necklace is such a fascinating piece with its big dots in yellow gold and small dots in white gold. It is a bold design, and definitely makes the wearer feel like she has something out of the ordinary!
The length of the necklace is 42 cm or about 17 inches.
The size of the big dots is about 7 mm which is about 0.3 inches.

A matching bracelet is also available and it will make a lovely set for you. Click here to see the bracelet.
Start a conversation with us by clicking the button below or contact us by email.