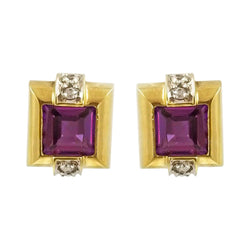 9 kt Yellow Gold Square Earrings with Amethyst and White Cubic Zircon
SKU: 9YECC5
9 kt Yellow Gold Square Earrings with Amethyst and White Cubic Zircon
These 9 karat yellow gold square earrings with their white and deep purple amethyst cubic zircon lend a flash of artfulness to the day and give you that extra 'zing' of confidence.  
Square of just under 0.5 inches by 11 mm long on each side.
Start a conversation with us by clicking the button below or contact us by email.