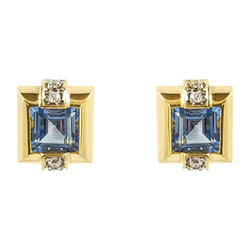 9 kt Yellow Gold Aquamarine and White Cubic Zircon
SKU: 9YECC8
9 kt Yellow Gold Aquamarine and White Cubic Zircon
These 9 karat yellow gold cubic zircon aquamarine earrings are a statement design on each ear. The stones gleam and glitter, giving you a an air of glamour and a touch of pep to keep that bounce in your step throughout the day.
Square zise: 11mm along each side / just under 1/2"
Start a conversation with us by clicking the button below or contact us by email.