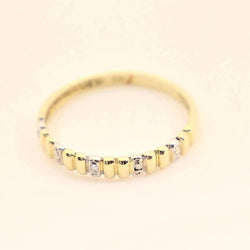 Yellow Gold Thin Band Diamond Ring
SKU: 9YRD3
Yellow Gold Thin Band Diamond Ring
9 kt Yellow Gold delicate band with 2 diamonds totaling 0.01.  This design forms a delicious Diamond Ring! The slim design holds the fine diamonds that twinkle up at you.
This ring can be easily worn as a Wedding Band!
The ring is for size O and can be adjusted as needed.
Start a conversation with us by clicking the button below or contact us by email.