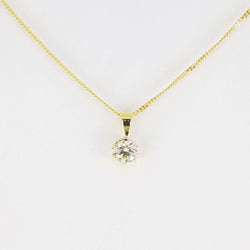 Yellow Gold Pendant
SKU: 9YP365
Yellow Gold Pendant
9-karat Yellow Gold Pendant with a Cubic Zirconia. So simple, so charming, so sweet. Be cool in this Classic Pendant, and if you wish to change the stone, and set a real diamond or to a gemstone of your choice, just let us know! Start a conversation with us below in one of the options. We would love to talk to you.
Price excludes the chain, but we can show you a variety of chains that can help you decide.
This Pendant has been SOLD and a similar one can be ordered for you in any metal (9, 14, or 18kt) in white gold, yellow gold, or platinum.
The price of the item will vary according to your requirements.  A quote will be worked out for the item you dream of.
Start a conversation with us by clicking the button below or contact us by email.