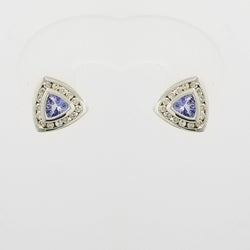 9 kt White Gold Diamond and Tanzanite Trillion-Shape Earrings
SKU: 9WET11
9 kt White Gold Diamond and Tanzanite Trillion-Shape Earrings
These 9 karat white gold earrings with diamonds totaling 0.30 carats and tanzanite totaling 0.42 carats are made for a soft and delicate look. They're for when you want to feel like you can just relax and be your softest self.
 They are 0.4 inches or 10 mm equilateral triangle.
Matching Pendant SKU 9WPT13
Please note that this item has been SOLD, but a similar item can be custom-made, using  any other stone in a different cut.
The price of the item will vary according to your requirements.  A Quote will be worked out for the item you dream of.
Check out our loose gemstone collection, and in particular our Tanzanite Collection of loose stones.  Click here.
.
Start a conversation with us by clicking the button below or contact us by email.