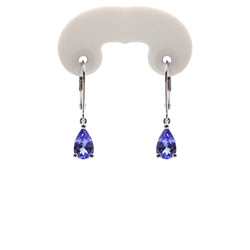 9kt White Gold Pear Tanzanite Earrings
SKU: 9WET350
9kt White Gold Pear Tanzanite Earrings
These 9-karat white gold dangling pear-shaped tanzanite earrings totaling at 1.67 carats will bring out your inner beauty with this piece of outer beauty. There are not enough words to describe how nice this piece is so we'll settle for heavenly. 
It's known that tanzanite works wonderfully to harmonize the spirit so with these on you'll be walking on a cloud all day. 
Please note that this item has been sold, but a similar item can be custom-made, using a Pear-cut stone, or any other stone in a different cut.
check our loose gemstone collection, and in particular our Tanzanite Collection of loose stones.  Click here.
Start a conversation with us by clicking the button below or contact us by email.