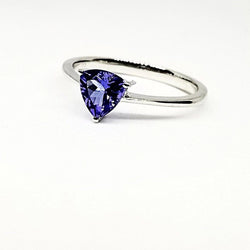 9kt White Gold Trillian Tanzanite Ring
SKU: 9WTR41
9kt White Gold Trillian Tanzanite Ring
9kt White Gold Trilliant Tanzanite 0.85 carat Ring.
Absolutely trilliant! This Tanzanite ring is meant to be worn by someone with a sense of style, who enjoys sleek design. Slip it on your finger, and feel your inner movie star come to life.
The ring is for finger size N and can be reized to fit your finger.
Start a conversation with us by clicking the button below or contact us by email.