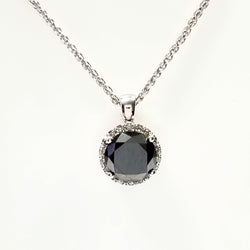 Black Diamond Halo Pendant
SKU: 18WPD105
Black Diamond Halo Pendant
A Black Diamond Halo Pendnat with a center diamond of 1.00 ct and there are 18 Diamond around equaling 0.07 ct.
wow! So elegant, can you imagine yourself in a black dress wearing the pendant? or actually any color dress, the black pendant will be the focal point.
Is a black diamond a real diamond?
Black diamonds are as real as white diamonds but are not as common.
Is a Black Diamond rare?
A very high quality natural black diamond is incredibly rare. Due to this rarity, a natural gem-quality black diamond can be more expensive than a colorless diamond of similar quality.
Do Black Diamonds sparkle?
They don't sparkle like other diamonds.
Unlike all other diamonds, black diamonds are opaque and do not sparkle, since they absorb light rather than reflect it. The deeper the black color, the better.
Price is excluding the chain.
This Black Diamond Halo Pendant has been SOLD and a similar one can be ordered for you in any metal (9, 14, or 18kt) in white gold, yellow gold, or platinum.
The price of the item will vary according to your requirements.  A quote will be worked out for the item you dream of.
Start a conversation with us by clicking the button below or contact us by email.