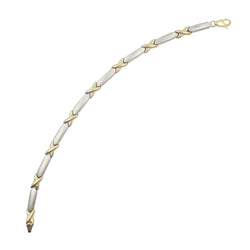 Cross Over Bracelet of 9 kt White and Yellow Gold
SKU: 9YB10
Cross Over Bracelet of 9 kt White and Yellow Gold
Cross-over bracelet with shining yellow gold "X" links and white gold sections with a matt finish totaling at 9 karats and measuring 19 cm long.
This lovely two-toned gold bracelet is perfect for that everyday classical look. The X-shaped links in yellow gold are super-polished and shining, while the other links have a matt finish on white gold giving it that perfect contrast. When you put this on you'll look and feel prosperous. 
It has a matching bracelet BUT the bracelet has opposite colors where the links are in yellow gold and the cross over is in white gold. This is matching "out of the box". Click here and check for yourself if you dare...  
Start a conversation with us by clicking the button below or contact us by email.