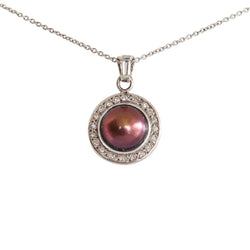 Classic 18 kt White Gold Peacock Black Mabe Pearl Pendant
SKU: 18WPPE1
Classic 18 kt White Gold Peacock Black Mabe Pearl Pendant
This mabe pearl is set in 18 karat white gold and surrounded by diamonds totaling 0.20 carats. Worn by royalty and adorned by courtiers, this pendant will be sure to make one feel luxurious and grand, so be the sensational peacock you were meant to be with this stunning piece. Above all, pearls are for the ages, the oldest gem known to man. Not only are they gifts from the ocean but they are precious and pure. 
The chain is not included in the price.
Start a conversation with us by clicking the button below or contact us by email.