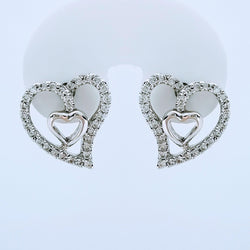 Heart Shaped Diamond Earrings
SKU: 18WED66
Heart Shaped Diamond Earrings
These 18 karat white gold heart shaped earrings with a total of 0.28 carats of diamonds will have you smiling from ear to ear and radiating with love! See those hearts dangling in the centers so prettily? They are sparkling just for YOU.  
Height is 12.09 mm or 0.47 inches 
Width is 11.2 mm or 0.44 inches
Start a conversation with us by clicking the button below or contact us by email.