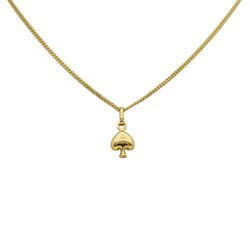 Lucky 9 kt Yellow Gold Ace of Spades Charm Pendant
SKU: 9YP372
Lucky 9 kt Yellow Gold Ace of Spades Charm Pendant
Be the lucky ace of spades with this cute little 9 karat yellow gold charm. Traditionally the highest ranking and most valued in the world of playing cards, this charm is sure to have Lady Luck follow you all the days of your life. Wear it on a bracelet or a chain to complement any mood or occasion.

The chain is not included in the price
Start a conversation with us by clicking the button below or contact us by email.