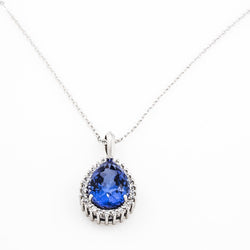 Pear Shape Tanzanite Halo Pendant
SKU: 18WPT10
Pear Shape Tanzanite Halo Pendant
A Pendant made of 18 karat White Gold with a Tanzanite Pear Shaped stone of 6.02 carat with Halo style diamonds. Diamonds totaling 0.28 carat. Liz Taylor would love this Tanzanite Pendant, with it's glittering, brilliant diamonds surrounding the lustrous blue light. Feel the celebrity beauty! 
The price excludes the chain, but we can show you what can match. 

Start a conversation with us by clicking the button below or contact us by email.