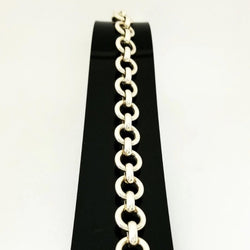 Silver Rolo Links Bracelet
SKU: SBR77
Silver Rolo Links Bracelet
Bracelet of silver rolo links that measures at 22 centimetres or 8.6 inches.
In the light of the silvery moon, anything seems possible. The circled shaped pieces form an endless silver cycle making you feel like you can be, do, or have anything you wish for when wearing this Silver Rolo-Links Bracelet.
Start a conversation with us by clicking the button below or contact us by email.