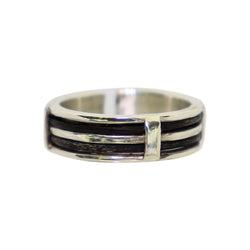 Silver Ring with two Strands Elephant Hair
SKU: SR300
Silver Ring with two Strands Elephant Hair
This ring design is in Silver and showcases two strands of Elephant Hair.
From the Heart of Africa comes this unique ring. Where the design invokes memories of warm days and nights under the sparkling African stars with the distant sounds of animals. The majestic Elephants are greeting the morning with the sound of trumpets!
Available for Finger size Q. The width of the ring is 7.5mm.
However, you are welcome to order the ring in any size and any metal. You can have it in 9, 14, or 18kt. In Yellow or White gold and in Platinum or silver.
Start a conversation with us by clicking the Whatsapp button below or contact us by email.