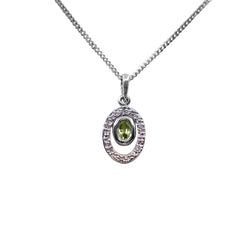 White Gold Oval Peridot Floating Pendant
SKU: 18WPDG3
White Gold Oval Peridot Floating Pendant
This cute pendant with an oval peridot weighing 0.26 carats is set in 18 karat white gold and the diamonds weigh 0.015 carats is the perfect surprise for the perfect lady. The pendant's discreetly placed diamonds accentuate the beauty and luster of this olive green stone. Finally, this birthstone for August is charming and darling. It reminds of spring with a burst of green leaves heralding in the start of summer. 
The chain is not included in the price.
This pendant is out of stock, but if you are interested in a similar PENDANT, I welcome you to reach out to us via Whatsapp to start a conversation and ask any questions you may have. If you prefer, you can also contact us by phone or email. We're always here to help and look forward to hearing from you! 
Please do not hesitate to contact us below by Whatsapp to start a conversation and ask us any questions you might have. You can of course use any other means of communication like calling or emailing.

 Start a conversation with us by clicking the button below or contact us by email.