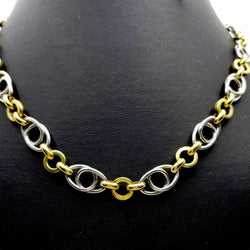 Yellow and White Gold Necklace
SKU: 9YCH38
Yellow and White Gold Necklace
This 9 karat white and yellow gold mixed chain necklace has a fantastic look to it; it is simple, yet ultra sophisticated. Mixing it up with this exceptional chunky necklace will add a thrill to your day.
It is 45 cm or 17.7 inches in length.
Start a conversation with us by clicking the button below or contact us by email.