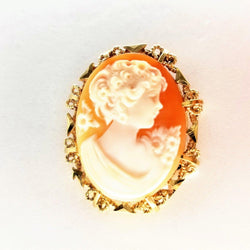 Yellow Gold Cameo Brooch
SKU: 9YBR2
Yellow Gold Cameo Brooch
This yellow gold Cameo brooch is 34 mm long and 28 mm wide, or 1.33 inches by 1.02 inches. 
Classically the designs carved onto cameo stones were either scenes of Greek or Roman mythology or portraits of rulers or important dignitaries or Royalty. These antique cameos, some more than 2,000 years old, are either displayed in museums or in private collections. 
Get a vintage-looking cameo in yellow gold which also has a bail and can therefore be used as a pendant too. It'll keep you feeling valued and timeless as you should be.
PLEASE NOTE:  THIS ITEM HAS BEEN SOLD.
Start a conversation with us by clicking the button below or contact us by email.