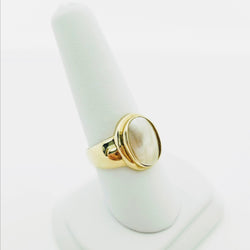 Yellow Gold Oval Mabe Pearl Ring
SKU: 9YRPE17
Yellow Gold Oval Mabe Pearl Ring
Oval Mabe Pearl is set in 9 kt Yellow Gold.
Absolutely irresistible because Pearls are lustrous treasures from a mollusk creature, unlike any other gemstone! This ring is classic yet modern with it's smooth design.  This design will make you feel like a queen. 
The ring is made to fit finger size T, which is a rather large size but can be made to fit a small finger size.
Start a conversation with us by clicking the button below or contact us by email.