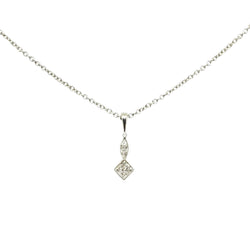 White Gold with Diamond Pendant
SKU: 9WPD2
White Gold with Diamond Pendant
9 kt White Gold cute pendant with two little diamonds totaling 0.02 carat.
This delicate, radiant pendant will give you the feeling of wearing something special, any day of the week. Because it's shaped like a Diamond, it will give you the Diamond Life! 
This is a cute small pendant that can also be perfect as a gift to a sweet 16 or a young adult of 18 who will get her first diamond.
You can read the article My First Diamond and find it very applicable to this item.
Price excludes Chain
This pendant is out of stock, but if you are interested in a similar pendant,   I welcome you to reach out to us via Whatsapp to start a conversation and ask any questions you may have. If you prefer, you can also contact us by phone or email. We're always here to help and look forward to hearing from you! 
Start a conversation with us by clicking the button below or contact us by email.