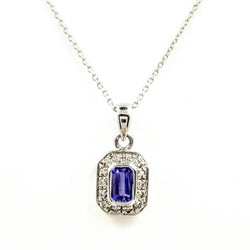 9 kt White Gold Tanzanite and Diamonds Rectangle Pendant
SKU: 9WPT7
White Gold Tanzanite and Diamonds Rectangle Pendant
9 karat White Gold Pendant with 10 small Diamonds totaling 0.04 carat that is set in the frame. The feature is a Tanzanite stone 0.29 carat, set in a tube setting. 
The delicately retro look of this rectangular pendant with its  Emerald-Cut Tanzanite makes a lovely glow against the skin. Feel pretty, while you take over the world!
You might be interested to look at a ring that matches. That will make you feel double able to take over the world!! This ring has an oval Tanzanite, but it is still very much a match. Judge for yourself.
Measurements 
Tanzanite measures around 10mm x 8mm / 0.37 x 0.3 inch 
Price excludes the chain and 
Start a conversation with us by clicking the button below or contact us by email.